Cerimônia teve show de Beyoncé e Jay-Z, reencontro de Paul McCartney e Ringo Starr e até casamento coletivo
O duo de música eletrônica Daft Punk foi o grande vencedor do Grammy 2014, levando álbum do ano e álbum de música eletrônica por "Random Access Memories", e single do ano e perfomance pop de duo ou grupo por "Get Lucky".
Ao lado de Pharell Williams e Nile Rodgers, que participaram da gravação, e do músico Stevie Wonder, a dupla francesa tocou o hit ao vivo, numa aguardada apresentação que mais colocou o público para dançar.
Mais: Líder do Nine Inch Nails, Trent Reznor xinga organizadores do Grammy
A festa começou com a popstar Beyoncé e uma sensual performance de "Drunk In Love". Depois de dançar sozinha em uma cadeira, a estrela cantou com o marido, Jay-Z. Os dois saíram abraçados e foram aplaudidos de pé.
O rapper voltou ao palco mais tarde para receber o prêmio de melhor colaboração de rap por outra parceria - "Holy Grail", com Justin Timberlake.
A neozelandesa Lorde, de apenas 17 anos, foi outro destaque da noite. Com "Royals", levou os prêmios de canção do ano e performance pop solo. Bruno Mars levou melhor álbum com "Unorthodox Jukebox".
A dupla Macklemore & Ryan Lewis também se deu bem no Grammy, faturando revelação do ano e três prêmios nas categorias de rap. "Cut Me Some Slack", parceria de Dave Grohl, Paul McCartney, Krist Novoselic e Pat Smear ganhou canção de rock, batendo grupos como Rolling Stones e Black Sabbath.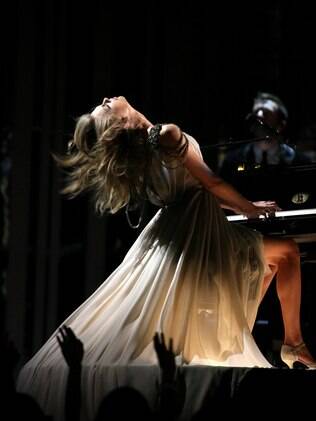 McCartney foi uma das estrelas da noite, ao lado de Ringo Starr. Além de serem homenageados como parte dos Beatles, os dois tocaram juntos e foram ovacionados pela plateia.
A cerimônia também lembrou a morte de artistas como Lou Reed e Phil Everly, do Everly Brothers.
O Grammy foi palco de várias apresentações dramáticas. Vestida de bruxa, Katy Perry saiu de uma bola de cristal e fez pole dance no cabo de uma vassoura enquanto cantava "Dark Horse" com Juicy J.
Empolgada, Taylor Swift virou gif ao jogar os cabelos para frente e para trás durante a apresentação de "All Too Well". Já Pink fez acrobacias para cantar "Try" e "Just Give Me a Reason", esta última junto a Nate Ruess.
Queen Latifah comandou um casamento coletivo de 34 casais hetero e homossexuais durante a apresentação do hit "Same Love", de Macklemore & Ryan Lewis. Usando terno branco, chapéu e bengala, Madonna se uniu à apresentação na parte final.
A cerimônia ainda teve shows de Lorde, Hunter Hayes, Kendrick Lamar e Imagine Dragons, Metallica, uma reunião country liderada por Willie Nelson, entre outros.
Nine Inch Nails, Queens of the Stone Age, Lindsay Buckingham e Dave Grohl fecharam a noite.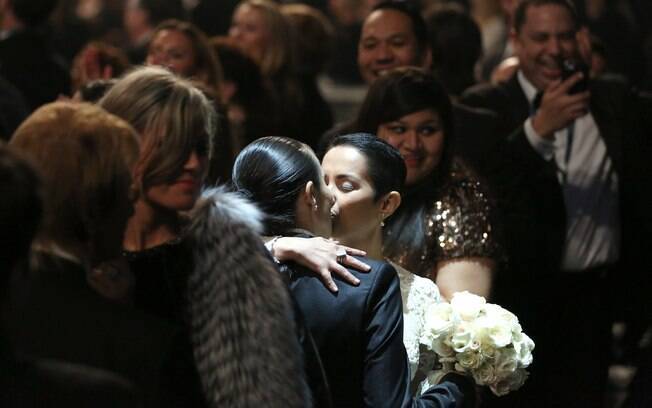 Veja a lista completa de ganhadores:
Disco do ano: "Random Access Memories" - Daft Punk
Single do ano: "Get Lucky" - Daft Punk, Pharrell Williams e Nile Rodgers
Canção do ano: "Royals" - Lorde
Artista revelação: Macklemore & Ryan Lewis
Produtor do ano: Pharell Williams

POP
Performance pop solo: "Royals" - Lorde
Performance pop duo/grupo: "Get Lucky" - Daft Punk, Pharrell Williams e Nile Rodgers
Álbum de pop vocal: "Unorthodox Jukebox" - Bruno Mars
Álbum de pop instrumental: "Steppin'Out" - Herb Alpert
Álbum de pop vocal tradicional: "To Be Loved" - Michael Bublé

MÚSICA ELETRÔNICA
Gravação de música eletrônica: "Clarity" - Zedd feat/ Foxes
Álbum de música eletrônica: "Random Access Memories" - Daft Punk
ROCK
Performance de rock: "Radioactive" - Imagine Dragons
Canção de rock: "Cut Me Some Slack" - Dave Grohl, Paul McCartney, Krist Novoselic e Pat Smear
Álbum de rock: "Celebration Day" - Led Zeppelin
Performance de metal: "God is Dead?" - Black Sabbath
Álbum de música alternativa: "Modern Vampires of the City" - Vampire Weekend
R&B
Performance de R&B: "Something" - Snarky Puppy with Lalah Hathaway
Performance de R&B tradicional: "Please Come Home" - Gary Clark Jr.
Canção de R&B: "Pusher Love Girl" - Justin Timberlake
Álbum de R&B: "Girl on Fire" - Alicia Keys
Álbum urbano contemporâneo: "Unapologetic" - Rihanna
RAP
Álbum de rap: "The Heist" - Mackelmore & Ryan Lewis
Colaboração de rap: "Holy Grail" - Jay-Z feat. Justin Timberlake
Performance de rap: "Thrift Shop" - Mackelmore & Ryan Lewis feat Wanz
Canção de rap: "Thift Shop" - Mackelmore & Ryan Lewis

COUNTRY
Performance de country solo: "Wagon Wheel" - Darius Rucker
Performance de country duo/grupo: "From This Valley" - The Civil Wars
Canção country: "Merry Go 'Round" - Kacey Musgraves
Álbum de country: "Same Trailer Different Park" - Kacey Musgraves
JAZZ
Improvisação de jazz solo: "Orbits" - Wayne Shoter
Álbum de jazz vocal: "Liquid Spirit" - Gregory Porter
Álbum de jazz instrumental: "Money Jungle: Provocative In Blue" - Terri Lyne Carrington
Álbum conjunto de jazz: "Night in Calisia" - Randy Brecker, Włodek Pawlik Trio & Kalisz Philharmonic
Álbum de jazz latino: "Song For Maura" - Paquito D'Rivera e Trio Corrente
GOSPEL
Performance de gospel/música cristã contemporânea: "Break Every Chain" - Tasha Cobbs
Canção gospel: "If He Did It Before...Same God" - Tye Tribbett
Canção cristã contemporânea: "Overcomer" - Mandisa
Álbum gospel: "Greater Than" - Tye Tribbett
Álbum de música cristã contemporânea: "Overcomer" - Mandisa
LATINO
Álbum de pop latino: "Vida" - Draco Rosa
Álbum de rock, urbano ou alternativo latino: "Treinta Dias" - La Santa Cecilia
Álbum mexicano ou tejano: "A Mi Manera" - Mariachi Divas De Cindy Shea
Álbum latino tropical: "Pacific Mambo Orchestra" – Pacific Mambo Orchestra
OUTROS
Álbum de new age: "Love's River" - Laura Sullivan
Canção americana raiz: "Love Has Come For You" - Steve Martin & Edie Brickell
Álbum de americana: "Old Yellow Moon" - Emmylou Harris & Rodney Crowell
Álbum de bluegrass: "The Streets of Baltimore" - Del McCoury Band
Álbum de blues: "Get Up!" - Ben Harper e Charlie Musselwhite
Álbum de folk: "My Favorite Picture of You" - Guy Clark
Álbum de música raiz: "Dockside Sessions" - Terrance Simien & The Zydeco Experience
Álbum de reggae: "Ziggy Marley in Concert" - Ziggy Marley
Álbum de world music: "Savor Flamenco" - Gipsy Kings; e "Live: Singing for Peace Around The World" – Ladysmith Black Mambazo
Álbum infantil: "Throw A Penny In The Wishing Well" – Jennifer Gasoi
Audiobook: "America Again: Re-becoming The Greatness We Never Weren't" – Stephen Colbert
Álbum de comédia: "Calm Down Gurri" - Kathy Griffin
Álbum de teatro musical: "Kinky Boots"
Compilação para trilha sonora: "Sound City: Real to Reel" – Dave Grohl & Various Artists
Trilha sonora: "Skyfall" - Thomas Newman
Canção original para trilha sonora: "Skyfall" - Adele
Videoclipe: "Suit & Tie" - Justin Timberlake feat. Jay-Z
Filme musical: "Live Kisses" - Paul McCartney
Gravação remix: "Summertime Sadness" - Lana Del Rey
Performance de música de câmara: "Roomful of Teeth" - Brady Wells e Roomful of Teeth