Los Angeles se prepara para receber o Grammy
O rapper Eminem, indicado a dez prêmios, é o grande favorito da noite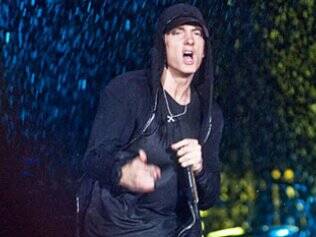 O Staples Center de Los Angeles finaliza os detalhes para acolher neste domingo a 53ª edição dos prêmios Grammy, a grande festa da música, com o rapper Eminem como favorito com dez indicações e um desfile de nomes míticos no palco.
A cerimônia, de três horas e meia de duração, contará com as atuações de Lady Gaga, Muse, Katy Perry, Bob Dylan, Mick Jagger, Arcade Fire, Mumford & Sons, Dr. Dre, Adam Levine (do Maroon 5), Christina Aguilera, Jennifer Hudson, Justin Bieber, Usher, Rihanna e Barbra Streisand, entre outros.
Streisand recebeu na sexta-feira à noite o prêmio Pessoa do Ano dado pela Academia da Música, que reconhece a "excepcional" trajetória artística da mítica cantora e atriz, assim como suas atividades filantrópicas.
A entidade organizou uma homenagem com tons benéficos no Convention Center, de Los Angeles, onde vários artistas como Diana Krall, Leona Lewis, Lea Michele, Faith Hill, Tony Bennett e Stevie Wonder cantaram versões de algumas das canções mais conhecidas de Streisand.
Foi o primeiro dos atos e festas que aconteceram durante o fim de semana prévio ao grande evento do domingo, por onde desfilarão celebridades como Sean Combs, Eva Longoria, Jennifer López, Ricky Martin, Ryan Seacrest, Keith Urban, Will.I.Am (dos Black Eyed Peas), Miley Cyrus, Jamie Foxx, Selena Gómez, Neil Patrick Harris e Jewel, entre outros, para entregar os prêmios.
Eminem, com dez indicações, parte como o grande favorito para os Grammy, seguido de perto pelas sete obtidas por Bruno Mars e as seis de Lady Gaga, Lady Antebellum e Jay-Z. O veterano artista de Detroit conseguiu, entre outras, as candidaturas ao álbum, gravação e canção do ano (por "Love the Way You Lie", interpretada junto com Rihanna).
Seu disco "Recovery" também aspira ao prêmio outorgado ao melhor álbum de rap, fonógrafo que já obteve em quatro ocasiões.
O principal rival de Eminem será o cantor, compositor e produtor Bruno Mars, de origem porto-riquenha, e após as seis indicações conseguidas por Lady Gaga, Jay-Z e Lady Antebellum, aparecem Jeff Beck, B.o.B, David Frost, Philip Lawrence e John Legend, com cinco candidaturas.
Gaga, Katy Perry, Eminem, a banda canadense de rock Arcade Fire e o trio de country Lady Antebellum disputarão a categoria de álbum do ano pelos trabalhos "The Fame Monster", "Teenage Dream", "Recovery", "The Suburbs" e "Need You Now", respectivamente.
A outra grande indicação do evento, a de gravação do ano, é disputada por Eminem e Rihanna, por "Love the Way You Lie"; Jay-Z e Alicia Keys, por "Empire State of Mind"; Lady Antebellum, por "Need You Now"; Cee Lo Green, por "Forget You", e B.o.B., por "Nothing on You".
Os indicados à melhor canção do ano (prêmio ao compositor) são "Forget You", de Cee Lo Green; "Love the Way You Lie", de Eminem; "Need You Now", de Lady Antebellum; "Beg Steal or Borrow", de Ray Lamontagne, e "The House that Built me", de Miranda Lambert.
Além disso, o fonógrafo dourado destinado ao melhor artista novato é disputado por Justin Bieber, Drake, Florence and the Machine, Mumford & Sons e Esperanza Spalding. A festa dos Grammy será transmitida pelo canal "CBS" e também poderá ser acompanhada ao vivo através do portal oficial, grammy.com, e no YouTube. Horas antes serão divulgados os ganhadores em 98 das categorias existentes.
Veja abaixo os indicados nas principais categorias:
Gravação do ano
"Nothin' On You", B.o.B com Bruno Mars
"Love The Way You Lie", Eminem com Rihanna
"F*** You", Cee-Lo Green
"Empire State Of Mind", Jay-Z & Alicia Keys
"Need You Now", Lady Antebellum
Álbum do ano
"The Suburbs", Arcade Fire
"Recovery", Eminem
"Need You Now", Lady Antebellum
"The Fame Monster", Lady Gaga
"Teenage Dream", Katy Perry
Música do ano
"Beg Steal Or Borrow", Ray LaMontagne and the Pariah Dogs
"F*** You", Cee-Lo Green
"The House That Built Me", Miranda Lambert
"Love The Way You Lie", Eminem com Rihanna
"Need You Now", Lady Antebellum
Artista Revelação
Justin Bieber
Drake
Florence & The Machine
Mumford & Sons
Esperanza Spalding
Melhor performance vocal pop feminina
"King Of Anything", Sara Bareilles
"Halo (Live)", Beyoncé
"Chasing Pirates", Norah Jones
"Bad Romance", Lady Gaga
"Teenage Dream", Katy Perry
Melhor performance vocal pop masculina
"Haven't Met You Yet", Michael Bublé
"This Is It", Michael Jackson
"Whataya Want From Me", Adam Lambert
"Just The Way You Are", Bruno Mars
"Half Of My Heart", John Mayer
Melhor performance vocal pop de grupo
"Don't Stop Believin' (Regionals Version)", elenco de "Glee"
Track from: Journey To Regionals
"Misery", Maroon 5
"The Only Exception", Paramore
"Babyfather", Sade
"Hey, Soul Sister (Live)", Train
Melhor álbum pop
"My World 2.0", Justin Bieber
"I Dreamed A Dream", Susan Boyle
"The Fame Monster", Lady Gaga
"Battle Studies", John Mayer
"Teenage Dream", Katy Perry
Melhor gravação dance
"Rocket", Goldfrapp
"In For The Kill", La Roux
"Dance In The Dark", Lady Gaga
"Only Girl (In The World)", Rihanna
"Dancing On My Own", Robyn
Melhor canção de rock
"Angry World", Neil Young
"Little Lion Man", Mumford & Sons
"Radioactive", Kings Of Leon
"Resistance", Muse
"Tighten Up", The Black Keys
Melhor álbum de rock
"Emotion & Commotion", Jeff Beck
"The Resistance", Muse
"Backspacer", Pearl Jam
"Mojo", Tom Petty And The Heartbreakers
"Le Noise", Neil Young
Melhor álbum de música alternativa
"The Suburbs", Arcade Fire
"Infinite Arms", Band Of Horses
"Brothers", The Black Keys
"Broken Bells", Broken Bells
"Contra", Vampire Weekend
Melhor canção de rap
"Empire State Of Mind", Jay-Z & Alicia Keys
"Love The Way You Lie", Eminem com Rihanna
"Not Afraid", Eminem
"Nothin' On You", B.o.B com Bruno Mars
"On To The Next One", Jay-Z & Swizz Beatz
Melhor álbum de rap
"The Adventures Of Bobby Ray", B.o.B
"Thank Me Later", Drake
"Recovery", Eminem
"The Blueprint 3", Jay-Z
"How I Got Over", The Roots
Melhor álbum de world music contemporâneo
"Throw Down Your Heart, Africa Sessions Part 2", Béla Fleck
"All In One", Bebel Gilberto
"ÕŸÖ", Angelique Kidjo
"Bom Tempo", Sergio Mendes
"Om Namo Narayanaya: Soul Call", Chandrika Krishnamurthy Tandon