Bob Dylan tocará na cerimônia de entrega do Grammy
Cantor se apresenta com a banda Mumford and Sons, que concorre em duas categorias no prêmio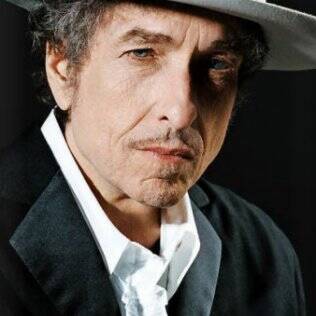 O cantor Bob Dylan vai se apresentar na cerimônia do Grammy, no domingo, 13, junto com a banda Mumford and Sons, além dos The Avett Brothers.
Ken Ehrlich, produtor do programa, explicou a escolha em entrevista ao site da rede CNN. "Sem Bob Dylan, o Mumford and Sons não estaria em cima de um palco", declarou.
Formado em 2007 e com apenas um disco lançado - "Sigh No More", que saiu em 2009 na Inglaterra e em 2010 nos EUA -, o Mumford and Sons está indicado em duas categorias do Grammy: melhor música de rock, por "Little Lion Man", e artista revelação.
Além de Dylan, outra lenda do rock estará no palco do Staples Center, em Los Angeles, no domingo. Mick Jagger, vocalista dos Rolling Stones, vai se apresentar pela primeira vez em uma cerimônia do Grammy.
Veja abaixo os indicados nas principais categorias:
Gravação do ano
"Nothin' On You", B.o.B com Bruno Mars
"Love The Way You Lie", Eminem com Rihanna
"F*** You", Cee-Lo Green
"Empire State Of Mind", Jay-Z & Alicia Keys
"Need You Now", Lady Antebellum
Álbum do ano
"The Suburbs", Arcade Fire
"Recovery", Eminem
"Need You Now", Lady Antebellum
"The Fame Monster", Lady Gaga
"Teenage Dream", Katy Perry
Música do ano
"Beg Steal Or Borrow", Ray LaMontagne and the Pariah Dogs
"F*** You", Cee-Lo Green
"The House That Built Me", Miranda Lambert
"Love The Way You Lie", Eminem com Rihanna
"Need You Now", Lady Antebellum
Artista Revelação
Justin Bieber
Drake
Florence & The Machine
Mumford & Sons
Esperanza Spalding
Melhor performance vocal pop feminina
"King Of Anything", Sara Bareilles
"Halo (Live)", Beyoncé
"Chasing Pirates", Norah Jones
"Bad Romance", Lady Gaga
"Teenage Dream", Katy Perry
Melhor performance vocal pop masculina
"Haven't Met You Yet", Michael Bublé
"This Is It", Michael Jackson
"Whataya Want From Me", Adam Lambert
"Just The Way You Are", Bruno Mars
"Half Of My Heart", John Mayer
Melhor performance vocal pop de grupo
"Don't Stop Believin' (Regionals Version)", elenco de "Glee"
Track from: Journey To Regionals
"Misery", Maroon 5
"The Only Exception", Paramore
"Babyfather", Sade
"Hey, Soul Sister (Live)", Train
Melhor álbum pop
"My World 2.0", Justin Bieber
"I Dreamed A Dream", Susan Boyle
"The Fame Monster", Lady Gaga
"Battle Studies", John Mayer
"Teenage Dream", Katy Perry
Melhor gravação dance
"Rocket", Goldfrapp
"In For The Kill", La Roux
"Dance In The Dark", Lady Gaga
"Only Girl (In The World)", Rihanna
"Dancing On My Own", Robyn
Melhor canção de rock
"Angry World", Neil Young
"Little Lion Man", Mumford & Sons
"Radioactive", Kings Of Leon
"Resistance", Muse
"Tighten Up", The Black Keys
Melhor álbum de rock
"Emotion & Commotion", Jeff Beck
"The Resistance", Muse
"Backspacer", Pearl Jam
"Mojo", Tom Petty And The Heartbreakers
"Le Noise", Neil Young
Melhor álbum de música alternativa
"The Suburbs", Arcade Fire
"Infinite Arms", Band Of Horses
"Brothers", The Black Keys
"Broken Bells", Broken Bells
"Contra", Vampire Weekend
Melhor canção de rap
"Empire State Of Mind", Jay-Z & Alicia Keys
"Love The Way You Lie", Eminem com Rihanna
"Not Afraid", Eminem
"Nothin' On You", B.o.B com Bruno Mars
"On To The Next One", Jay-Z & Swizz Beatz
Melhor álbum de rap
"The Adventures Of Bobby Ray", B.o.B
"Thank Me Later", Drake
"Recovery", Eminem
"The Blueprint 3", Jay-Z
"How I Got Over", The Roots
Melhor álbum de world music contemporâneo
"Throw Down Your Heart, Africa Sessions Part 2", Béla Fleck
"All In One", Bebel Gilberto
"ÕŸÖ", Angelique Kidjo
"Bom Tempo", Sergio Mendes
"Om Namo Narayanaya: Soul Call", Chandrika Krishnamurthy Tandon