Apresentações ao vivo incluem nomes como Black Keys, Elton John, Chuck D, Rihanna, Taylor Swift e Justin Timberlake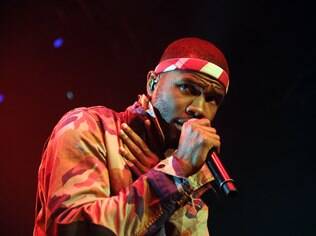 A cerimônia de entrega do Grammy Awards 2013, que acontece neste domingo (10), no Staples Center, em Los Angeles, será marcada por apresentações que misturam gerações diferentes de roqueiros e rappers.
A confirmação dos shows, feita nesta sexta (8), traz junções curiosas como a do combinado formado por Travis Barker (Blink-182), Chuck D (Public Enemy), LL Cool J, Tom Morello (Rage Against the Machine) e DJ Z-Trip, assim como o combo que contará com Zac Brown, T Bone Burnett, Brittany Howard, Elton John, Mumford & Sons e Mavis Staples.
Nas apresentações tradicionais, o evento vai contar com performances de Mumford & Sons, Frank Ocean, Taylor Swift, Justin Timberlake, The Black Keys, Juanes, Fun, Rihanna e Jack White.
Entre os possíveis premiados da noite, destacam-se como favoritos o artista de R&B Frank Ocean, o grupo indie pop Fun, a banca de folk britânica Mumford & Sons, o roqueiro Dan Auerbach e a dupla de rappers Jay-Z e Kanye West, cada um com seis indicações.
Leia também: Um ano depois, Grammy lembra tumulto com morte de Whitney Houston
Diferentemente do ocorrido na cerimônia do Grammy de 2012, que foi dominada pela britânica Adele e seu bem-sucedido álbum "21", este ano dificilmente uma pessoa ou banda deve ganhar o cobiçado trio de gravação de canções e álbuns do ano.
Veja abaixo as principais categorias do Grammy 2013:
Álbum do ano
"El Camino" - The Black Keys
"Some Nights" - Fun.
"Babel" - Mumford & Sons
"Channel Orange" - Frank Ocean
"Blunderbuss" - Jack White
Canção do ano
"The A Team" - Ed Sheeran
"Adorn" - Miguel
"Call Me Maybe" - Carly Rae Jepsen
"Stronger (What Doesn't Kill You)" - Kelly Clarkson
"We Are Young (feat. Janelle Monáe)" - Fun.
Gravação do ano
"Lonely Boy" - The Black Keys
"Stronger (What Doesn't Kill You)" - Kelly Clarkson
"We Are Young (feat. Janelle Monáe)" - Fun.
"Somebody That I Used To Know (feat. Kimbra)" - Gotye
"Thinkin Bout You" - Frank Ocean
"We Are Never Ever Getting Back Together" - Taylor Swift
Artista revelação
Alabama Shakes
Fun.
Hunter Hayes
The Lumineers
Frank Ocean
Álbum de rock
"El Camino" - The Black Keys
"Mylo Xyloto" - Coldplay
"The 2nd Law" - Muse
"Wrecking Ball" - Bruce Springsteen
"Blunderbuss" - Jack White
Canção de rock
"Freedom At 21" - Jack White
"I Will Wait" - Mumford & Sons
"Lonely Boy" - The Black Keys
"Madness" - Muse
"We Take Care Of Our Own" - Bruce Springsteen
Álbum de rap
"Take Care" - Drake
"Food and Liquor 2: The Great American Rap Album Pt. 1" - Lupe Fiasco
"Life Is Good" - Nas
"Undun" - The Roots
"God Forgives, I Don't" - Rick Ross
"Based on a T.R.U. Story" - 2 Chainz
Canção de rap
"Daughters" - Nas
"Lotus Flower Bomb (Feat. Miguel)" - Wale
"Mercy (Feat. Big Sean, Pusha T & 2 Chainz)" - Kanye West
"The Motto (Feat. Lil Wayne)" - Drake
"Ni**as In Paris" - Jay-Z & Kanye West
"Young, Wild & Free (feat. Wiz Khalifa, Bruno Mars)" - Snoop Dogg
Álbum de R&B
"Black Radio" - Robert Glasper Experiment
"Back to Love" - Anthony Hamilton
"Write Me Back" - R. Kelly
"Beautiful Surprise" - Tamia
"Open Invitation" - Tyrese Gibson
Canção de R&B
"Adorn" - Miguel
" Beautiful Surprise" - Tamia
"Heart Attack" - Trey Songz
" Pray for Me" - Anthony Hamilton
"Refill" - Elle Varner
Performance solo pop
"Set Fire To The Rain" (Live) - Adele
"Stronger (What Doesn't Kill You)" - Kelly Clarkson
"Call Me Maybe" - Carly Rae Jepsen
"Wide Awake" - Katy Perry
"Where Have You Been" - Rihanna
Performance pop duo ou grupo
"Shake It Out" - Florence and The Machine
"We Are Young (feat. Janelle Monáe)" - Fun.
"Somebody That I Used To Know (feat. Kimbra)" - Gotye
"Sexy and I Know It" - LMFAO
"Payphone (Feat. Wiz Khalifa)" - Maroon 5
Performance rock
"Hold On" - Alabama Shakes
"Lonely Boy" - The Black Keys
"Charlie Brown" - Coldplay
"I Will Wait" - Mumford & Sons
"We Take Care Of Our Own" - Bruce Springsteen
Performance rap
"HYFR (Hell Ya F***ing Right)" - Drake Featuring Lil' Wayne
"N****s In Paris" - Jay-Z & Kanye West
"Daughters" - Nas
"Mercy" - Kanye West Featuring Big Sean, Pusha T & 2 Chainz
"I Do" - Young Jeezy Featuring Jay-Z & André 3000